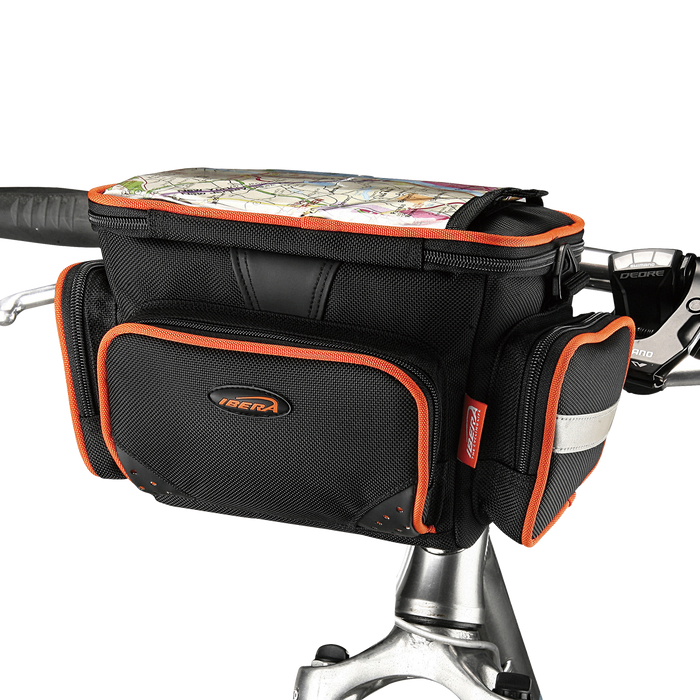 IBERA All-Weather Handlebar Bag - Medium IB-HB4
All-Weather Handlebar Bag allows you to protect and your cycling gear. Furthermore, quickly access your items on commutes, day trips, or extended tours with an extremely versatile and functional handlebar bag. Clip-on quick-release also allows impressively simple usage. Also fits small DSLRs, lenses and additional camera accessories.
The lid is angled with a clear map sleeve for easy viewing of maps or even a phone. Holds phones, wallets, keys, snacks, tools, clothing, cameras or small DSLR cameras. Furthermore, size adjustable clamp fits most handlebars (0.8" - 1.3" (22.2 mm - 31.8 mm)). Reflective trim adds to low light or nighttime safety. In addition, an All-Weather rain cover shields bag and precious cargo from the elements.
Multiple compartments
Detachable padded shoulder strap for off-road use
Measurements vary if not including the 3 pockets on the side and front, or do include the 3 pockets in the dimensions.
All-Weather Handlebar Bag Features
Material: 1680D Nylon
Mount: Clip-on quick-release
Rain Cover: Yes
Capacity: 4.5 L
Weight: 1.45 lbs
Map Sleeve Dimensions: 7.25 in x 5.5 in ( 18.42 cm x 14 cm)
Bag Dimensions: 8.5-11* in x 6.5 in x 5-7* in
Load Weight: Carries up to 11 lbs (5 kg)
Note: For large DSLRs, Ibera recommends the Ibera DSLR handlebar bag (IB-HB3).