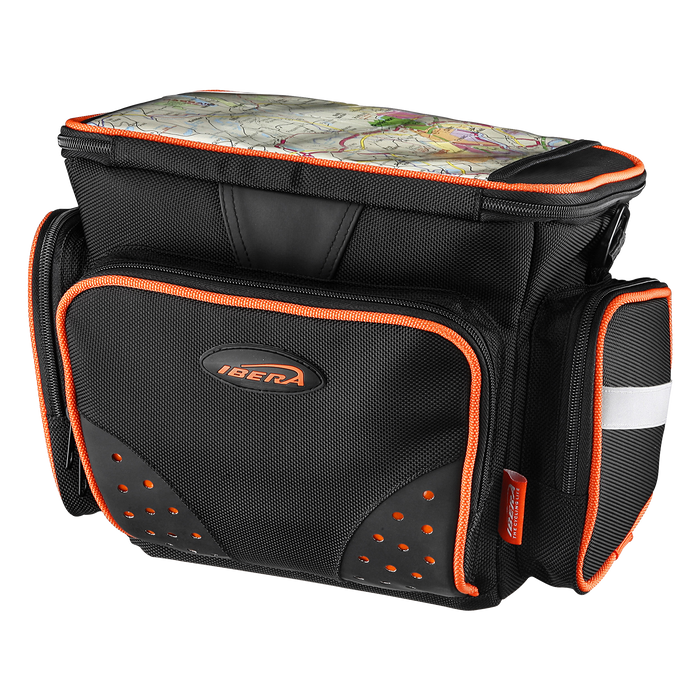 IBERA Front Handlebar DSLR Camera Case - Large | IB-HB3
IBERA's Front Handlebar DSLR Camera Case protects and provides quick access to your cameras and gear on commutes, day trips, or extended tours. Fits large DSLRs, lenses and additional camera accessories. The lid is angled with a clear map sleeve for easy viewing of map or phone. Multiple compartments, padded shoulder strap for off-road use, and padded removable divider. The clip-on quick-release makes the camera case easy to attach and remove.
Reflective trim allows for night time safety
Size adjustable clamp fits most handlebars (0.8" - 1.3" (22.2 mm - 31.8 mm)).
All-weather rain cover
IBERA Front Handlebar DSLR Camera Case Features:
 Material: 1680D Nylon
Mount: Clip-on quick-release
Rain Cover: Yes
Capacity: 7 Liters
Load Weight: Carries up to 11 lbs (5 kg)
Weight: 1.5 lbs
Dimensions: 9.5-12*" x 9" x 6-8*"
Note: Measurements vary if not including the 3 pockets on the side and front, or do include the 3 pockets in the dimensions.