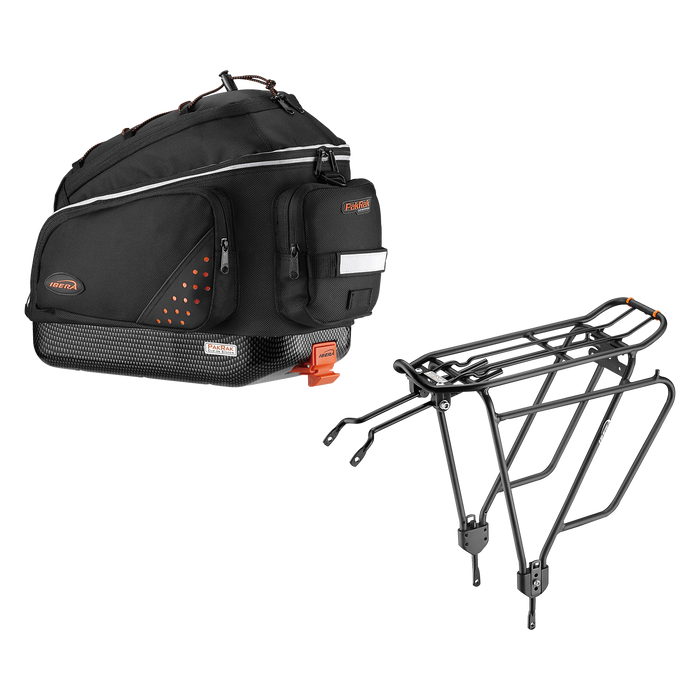 IBERA Commuter Bag & Touring Carrier Plus+ | IB-BA11-RA4
Commuter Bag & Touring Carrier
Quick-release commuter trunk bag clips on and releases within 3 seconds - no straps required! Non disk brake bikes supported. Also, integrated hand carrying strap and detachable padded shoulder strap are included for off-road use. Shoulder strap stores easily in a mesh pocket beneath the bag cover. Moreover, main compartment storage space for books, small laptops, or cycling gear/tools.
Bag reinforced and padded sides for shock protection. In addition, side and rear pockets, zippered pouch, and external bungee cords offer additional storage for small items. Moreover, durable ABS base allows the bag to be put on wet surfaces, protecting the cargo within. Furthermore, highly reflective strips and taillight hanger add to nighttime safety.
Varied compatibility
Commuter bag and touring carrier is extremely durable and is also ideal for long tours with heavy equipment.
Quick-release bag mounting system (bags not included)
Size adjustable to fit most 26" and 700c bicycle frames
For non disk brake bikes
Features (Bag)
Mount Type: Ibera PakRak Clip-On Quick-Release
Material: 1680D Nylon, ABS base
Capacity: 17 L
Dimensions: 15 " x 8.7" x 11.4"
Weight: 2.3 lbs
Rack Compatibility: IB-RA1, IB-RA2, IB-RA3, IB-RA4, IB-RA5, IB-RA11, IB-RA15
Note:
Option to mount Ibera commuter bags simultaneously with Ibera panniers 
Features (Rack)
Material: Durable Lightweight Heat-Treated Aluminum
Mount Type: Frame-Mount
Dimensions: 15.5" x 6.0" x 15.5-16.5" (Top shelf: 5.5" in width), Adjustable Height, Fits Most 26" and 700c Frames
Load weight: Carries up to 55 lb (25kg)
Rack Weight: 1.67 lbs / 760g
Bag Compatibility: Compatible with Ibera Ibera trunk bags - IB-BA1, IB-BA3, IB-BA4, IB-BA7, IB-BA8, IB-BA9, IB-BK1, Strap-attached bags, Side pannier bags, Eco-friendly reusable bags, 
Plus+ allows Ibera trunk bags or baskets to be mounted in conjunction with Ibera panniers.
Note: (Rack and All Weather Rain Cover [IB-BA1-RC] sold separately)