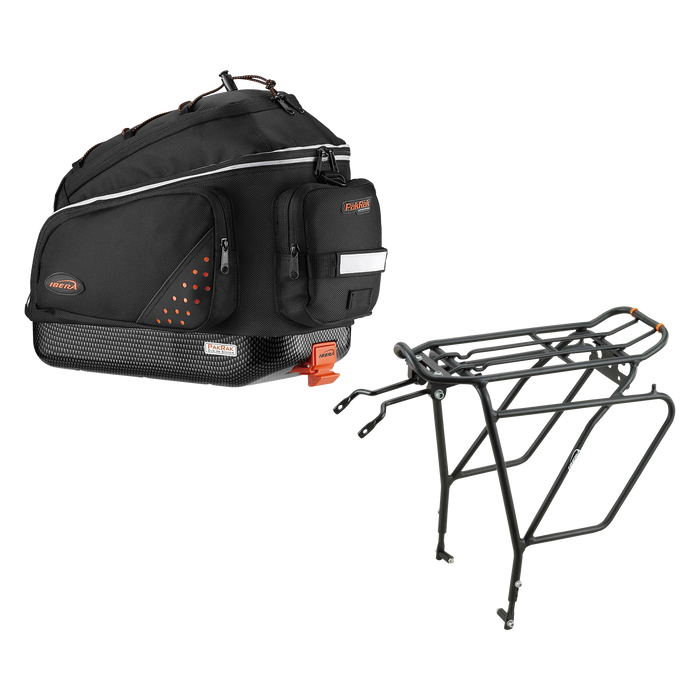 IBERA Commuter Bag & Touring Carrier Plus+ | IB-BA11-RA5
IBERA Commuter Bag & Touring Carrier Plus+:
Made for disk-brake equipped bikes. Quick-Release clips on and releases within 3 seconds - no straps required! In addition, integrated hand carrying strap & detachable padded shoulder strap are included for off-road use. The shoulder strap stores easily in a mesh pocket beneath the bag cover.
Also, the main compartment offers storage space for books, small laptops, cycling gear, or tools. Additional storage for small items: side & rear pockets, zippered pouch, and external bungee cords.
IBERA Commuter Bag & Touring Carrier Plus+ with durable ABS base allows it to be set down on wet surfaces while protecting the cargo within. Also, designed with reinforced and padded sides for shock protection. Frame-mounted for heavier top and also side loads (bags not included).
In addition, carries up to 25 kg (55 lb) with a reflector attachable. Furthermore, compatible with Ibera PakRak trunk bags, eco-friendly reusable bags, and side pannier bags. 
Visible from over 1500 feet away
Highly reflective strips and taillight hanger add to nighttime safety
For disk-brake equipped bikes.
Fits most frames.
Features (Bag)
Mount Type: Ibera PakRak Clip-On Quick-Release
Material: 1680D Nylon, ABS base
Capacity: 17 L
Dimensions: 15 " x 8.7" x 11.4"
Weight: 2.3 lbs
Rack Compatibility: IB-RA11, IB-RA15, IB-RA4, IB-RA5
Features (Rack)
Material: Durable Lightweight Heat-Treated Aluminum
Mount Type: Frame-Mounted for Heavier Top & Side Loads with Disk Mounts, Quick-Release Bag Mounting System (bags not included)
Dimensions (Adjustable): 15.5" x 5.5" x 15.5" (9" at its widest), 14.5" - 15.5" Adjustable Height, Fits Most 26" and 700c Frames
Load weight: Carries up to 55 lb (25kg)
Rack Weight: 1.67 lbs (760 g)
Bag Compatibility: IB-BA11, IB-BA14, IB-BA15, IB-BA20, IB-BA22, IB-BA9
Note: All-Weather Rain Cover (IB-BA1-RC) and Ibera rack available separately.