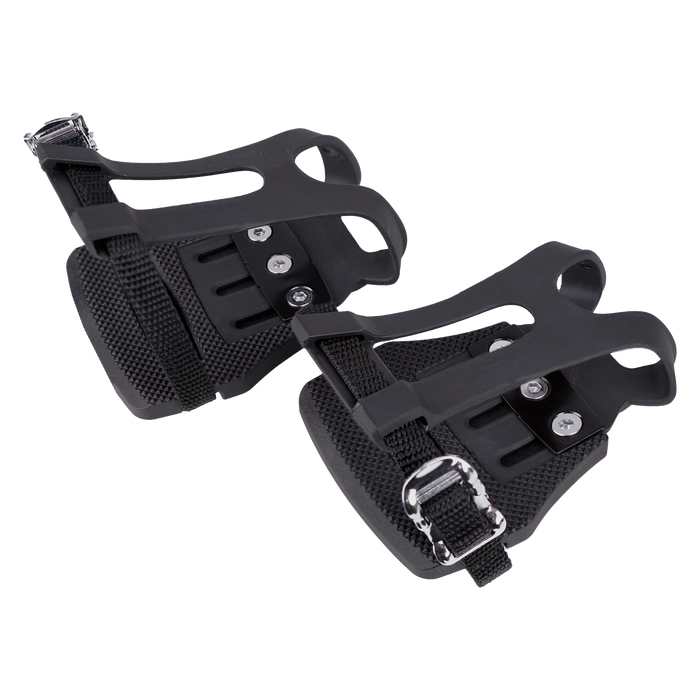 BV Bike Pedals Shimano SPD Compatible 9/16" with Toe Clips | BV-PD9
BV SPD Pedal fits indoor exercise bikes, such as Peloton, and most mountain bikes. Compatible also with both SPD and Look Delta cleats without extra work. Perfect for gyms and recreational use.
BV SPD Pedal
Features
Durable and reliable: The long lasting and high quality materials used (ED-painted aluminum body with high quality nylon pedal straps) ensure that these peloton-compatible pedals will last for a long time. 
Flexible use: Whether, spin class, indoor cycling, exercise rides, or peloton bicycle - These pedals including toe cages allowing you to ride with clip-in shoes or casual shoes. 
Shimanon SPD compatibility: These bike pedals are compatible with the SHIMANO SPD system and are suitable for bikes with a 9/16" spindle. The adjustable nylon traps and aluminum clips ensure a secure fit. 
Secure and comfortable ride: These toe cages pedals have a large, anti-slip platform and adjustable tension, providing a secure and comfortable ride for you. Of course, the pre-installed toe clips on the pedals can also be easily removed if desired.

Ride with Sneakers: Specially designed for Peloton Bike. Convert look delta pedals to toe clip straps. Feel free to ride on peloton bike with sneakers.

Adjustable Cage: Easy to adjust toe clip position and the tightness. The maximum length is 5.5 inches.

High Quality: Made of nylon fiber. Super durable, rust proof, and waterproof.
Easy Installation
Before clipping-in, adjust the length of toe clip cage.

Use any applicable tool to sligtly loosen the pedal's tension fo a smooth clip-in.

Put the toe clip cage on the pedal. For rider safety, please make sure the toe clip cage fits firmly into the pedal. If the toe clip cage doesn't fit the pedal tight, you can increase the pedal's tension.