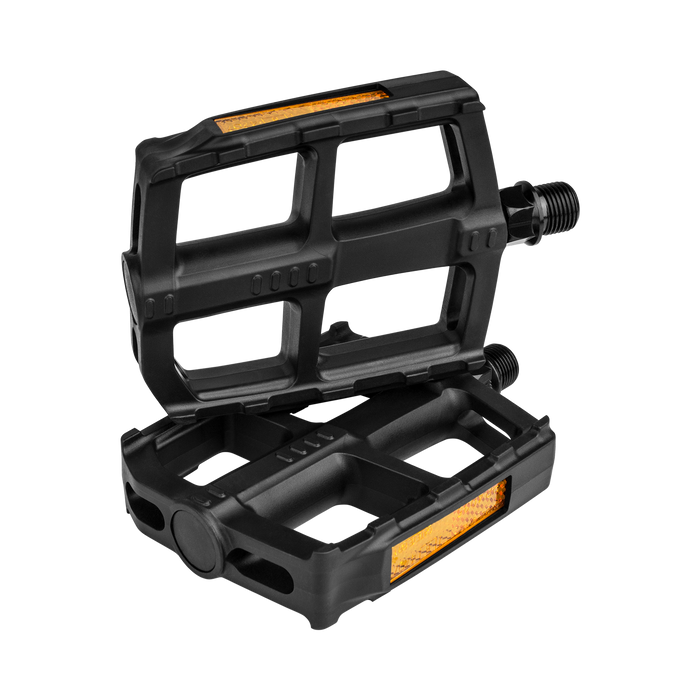 BV MTB Bicycle Pedals Set 9/16 Inch - Pair | BV-PD1
Easily replace old pedals with BV MTB Bicycle Pedals Set. The use of upgraded high-quality bearing provides a smoother stroke while pedaling. With the durable boron steel, no need to worry about the foot pedal breaking. In addition, a bigger platform shape for long-ride comfort and pedaling efficiency, anti-skid nodes increase friction and prevent foot slippage, all simple & important features to greatly enhance your safety. 
A high-end ball bearing system can give you a better pedal feel when riding, optimizing every stroke you pedal and giving you a more efficient power transfer. Also, Supremely durable boron steel alloy provides great support for your feet. The axles of the pedals can take whatever activity you are doing and still keep rolling. Reflectors on both sides of the pedals can increase your visibility in the dark significantly.
One-piece resin pedal body with reflectors

Ball bearings system optimizing every your pedal stroke

Build to last 9/16" Sturdy Boron Steel Spindle

Fits most adult bikes - urban, commuting, E-bike, & trekking
MTB Bicycle Pedals Set Features
Body: Rigid, one-piece black PP, grip nodes
Compatibility: For urban, commuting, E-bike, & trekking
Axle: 9/16" Boron Steel
Bearing: Ball bearings
Size: 110 x 79mm
Weight: 12.7 oz (353 g)