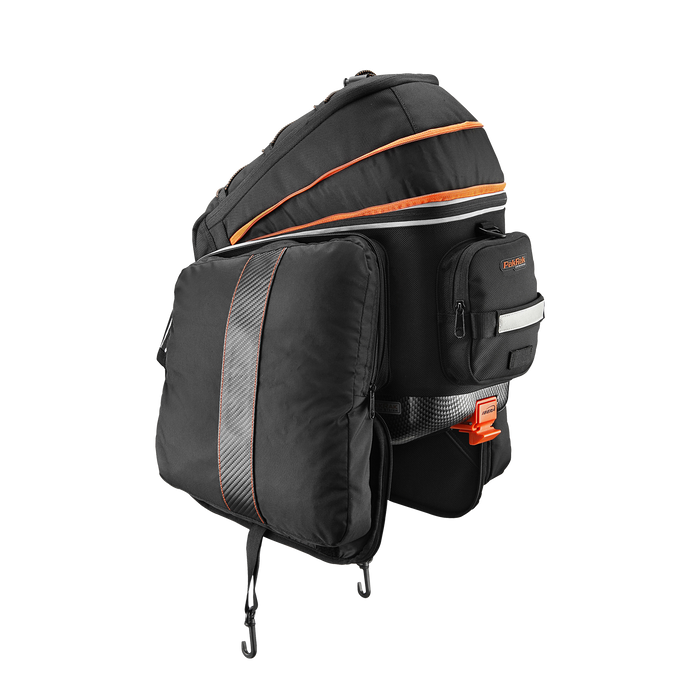 IBERA Commuter Bag Expandable Side Panniers | IB-BA14
Commuter Bag Expandable Side Panniers feature a quick-release feature. Moreover, trunk bag clips on and release within 3 seconds - no straps required! Furthermore, an integrated hand carrying strap and detachable padded shoulder strap allow for off-road use. In addition, the shoulder strap stores easily in a mesh pocket beneath the bag cover. Also, the main compartment offers storage space for books, small laptops, cycling gear or tools.
On the outside, there are 2 side pockets with built-in foldaway mini panniers, a rear pocket, an expandable top pouch with external bungee cords, a hand-carry strap, reflective strips, and a taillight hanger. Also, a durable carbon-patterned ABS base allows the bag to be set down on wet surfaces, protecting the cargo within.
The expandable panniers are the key feature for this item. They offer more storage space for extra bicycle tools, accessories, or protective gear when needed. In addition, both panniers open up into an angular shape (the pedal side is shorter in height) so there is extra room for to peddle.
Ease use
Convenient size
Lots of space without the bulk
 Commuter Bag Expandable Side Panniers Features:
Material:

 

1680D Nylon, ABS base 
Mount: IBERA PakRak button lock mechanism
Capacity: 17L / 

23L (side panniers unfolded)

Carry Limit: 22 Lbs / 10 kg
Dimensions: 

15 x 8.9 x 11.4 inches (38 x 23 x 29 cm)

Pannier Dimensions: 10 x 13.5 x 1.75 inches (25.4 x 34.3 x 4.4 cm)
Weight: 2.3 Lbs
Compatibility: IBERA PakRak Carriers IB-RA15 / IB-RA4 / IB-RA5
Note: PakRak bag are incompatible with non-PakRak carriers. Confirm bag-carrier compatibility before purchase.
Also Note: Rack available separately